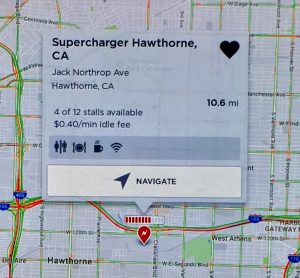 In an effort to curb Supercharger congestion, Tesla has activated a new feature on its in-vehicle map app that details Supercharger stall availability. As shown in Figure 1, this information is conveyed as text above the idle fee (4 of 12 stalls available in this instance) and also as a "full meter" (red bar below the navigate button).
Having such information available at your fingertips will allow drivers to plan their journeys in advance if they need to juice up along the way.
Update 1: The details presented on the map are reported to have a latency of around 2 minutes, according to Electrek.
Update 2: Tesla officially announced the software update today via a succinct tweet: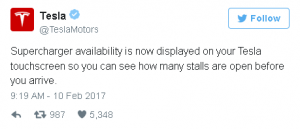 Source/s: Teslarati, Electrek, Tesla.