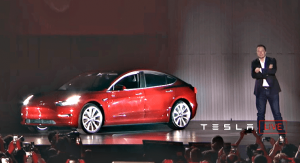 Tesla's master plan has always involved the creation of an affordable, mass-produced, all-electric car. This objective is now within reach. Years of blood, sweat and tears have culminated in Model 3 — Tesla's first electric vehicle for the masses.
On July 28, Tesla proudly delivered the first thirty production Model 3s during a handover event at their factory in Fremont, California. The man of the moment — Tesla CEO Elon Musk — arrived at the handover event in a shiny new red Model 3, and appeared jubilant as he took to the stage.
According to Musk, a total of fifty Model 3s were actually manufactured in July — the remaining twenty will be used for "engineering validation."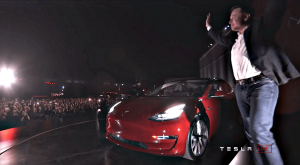 The first production Model 3s looked stunning parked at Fremont's Supercharger station. What seemed a little odd, however, was that only a few of the new owners were seen walking over to the Model 3s during Tesla's webcast.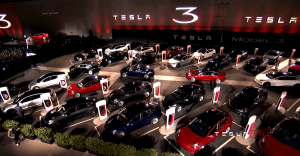 There have been minimal cosmetic changes to the Model 3 since the first prototype was revealed back in March 2016. One minor change is to the front. "We softened the nose's frown a little," said Franz von Holzhausen, Tesla Chief Designer, as he presented a production Model 3 to Motor Trend for a test drive. Further, there are apparently a number of new proximity sensors on the Model 3, and the flap on the charging port now flips upwards.
With the first thirty Model 3s delivered, Tesla now faces the daunting task of volume production, while keeping Model S and Model X production on track.
"Welcome to production hell," Musk warned Tesla employees in the audience. Just how long will this hell last? "For at least six months, maybe longer," he said.
Musk is not kidding, either. As of Friday July 28, the number of Model 3 reservations was an anxiety-inducing 455,000. To further increase the heat, apparently over 1,800 Model 3s are being added to the reservation list each day since the handover event on Friday.
 Tesla Model 3 Pricing, Specifications and Initial Deliveries
The standard Model 3 will be good for around 220 miles (354 km) on a single charge, and will retail for $35,000 (minus applicable incentives). The standard Model 3 is no slouch, capable of accelerating from 0-60 mph in only 5.6 seconds.
The long range Model 3, with its larger battery pack, should get about 310 miles (499 km) per charge. However, it will set you back another $9,000, taking the base price to $44,000. The long range Model 3 is even more potent than the standard version, rocketing from 0-60 mph in a mere 5.1 seconds. Impressive for a car weighing over 3,800 lbs.
There has been no confirmation yet regarding battery pack capacity for either version Model 3.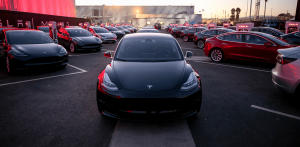 In comparison, the $37,495 Chevy Bolt EV has an estimated range of about 238 miles (383 km) per charge of its 60 kWh battery. The Bolt is nowhere near as quick as the Model 3 though, taking around 6.5 seconds to get from 0-60 mph.
Tesla's Model 3 joins the ranks of their existing Model S and Model X, making for one formidable all-electric lineup (Figure 1).

Tesla has long touted the Model 3 as an affordable alternative to gasoline powered cars. However, reservation holders hanging out for the $35,000 version will just have to wait.
Apparently, initial Model 3s will come pre-configured with the long range battery and premium upgrades package. This adds $9,000 and $5,000 respectively to the Model 3's base price, bringing it up to $49,000.
There will only be three customisation options available to begin with: wheel size, paint colour and Autopilot features. Also, initial vehicles will all be single motor, rear-wheel drive. Tesla are limiting options at the outset to try and make manufacturing as trouble-free as possible. This will hopefully ensure a smooth production ramp.
The first several thousand Model 3s have been earmarked for Tesla employees and investors, a move which facilitates internal feedback on the vehicle. Should any problems arise, they can be dealt with promptly and efficiently before the Model 3 makes its way to the masses.
According to Tesla, reservation holders in the US general public will have to wait until late October 2017 for deliveries to begin.
Apparently, additional configurations — including the $35,000 Model 3 with standard battery and standard equipment — will become available to certain reservation holders around November 2017.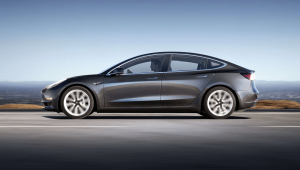 Tesla Model 3 Production Timeline
The Model 3 production ramp will follow an S-curve which, in an ideal world, would look similar to Figure 2. In other words, production begins slowly, increases exponentially, then flattens out as it reaches a maximum.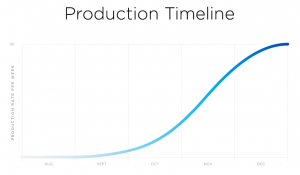 In reality, a production ramp does not follow a smooth curve. Production rates can plateau, and even decrease, due to manufacturing problems and, more commonly, parts shortages — if just a single part is missing, a car cannot be completed.
Hopefully, all of the Model 3's 10,000 unique parts are now arriving, in volume, at Tesla's Fremont factory.
From Figure 2, Tesla aspire to achieve a 5,000 unit production week before the end of the year.
Looking further down the road, Elon Musk is confident that they will have achieved a 10,000 unit production week towards the end of 2018. This is in addition to Model S and Model X production, which is already approaching the top of their own S-curve, maxing out at around 100,000 units (combined) per year.
In terms of the dual motor, all-wheel drive Model 3, it is apparently scheduled to begin production in (US) Spring 2018. Further, Musk Tweeted regarding the promised performance Model 3:
Probably middle of next year. Focus now is on getting out of Model 3 production hell. More versions = deeper in hell.

— Elon Musk (@elonmusk) July 30, 2017
Live outside the US? International deliveries of left-hand drive vehicles should begin in the second half of 2018 (depending on regulatory approval). Expect production of right-hand drive vehicles in 2019.
If I Order a Model 3 Today, When Can I Expect Delivery?
If you place a Model 3 order in the US now, expect delivery towards the end of 2018. Additionally, Tesla owners receive priority Model 3 orders, so you can accelerate your delivery by purchasing a Model S or Model X first.
Remember, Model S and Model X are available for delivery in as little as one or two months.
Tesla Model 3 STANDARD EQUIPMENT
(Price – $35,000)
Standard Battery
Range: 220 miles (EPA estimated)
Supercharging rate: 130 miles of range per 30 minutes
Home charging rate: 30 miles of range per hour (240V outlet, 32A)
Performance
0-60 mph: 5.6 seconds
Top speed: 130 mph
Interior
15" touchscreen display
Dual zone climate control system
FM/Internet streaming radio
Textile seating
Front center console with open storage and two USB ports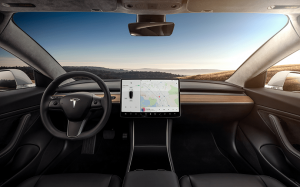 Convenience
Onboard maps and navigation
Wi-Fi and LTE internet connectivity
Keyless entry and remote climate control using the Tesla app
Voice activated controls
Bluetooth hands-free calling and media streaming
60/40 split folding rear seat to maximize cargo options
Back-up camera
Auto dimming rear-view mirror
One-touch power windows throughout
Power-adjustable side mirrors
12-volt power outlet
Safety
Full LED exterior lighting
Eight cameras, forward radar and twelve ultrasonic sensors enabling active safety technologies including collision avoidance and automatic emergency braking
Six front row and two side curtain airbags
Three-point safety belts with belt-reminders for driver and four passengers
Two LATCH (Lower Anchors and Tethers for Children) attachments in second row
Electronic stability and traction control
Four-wheel antilock disc brakes with electronic parking brake
Child safety locks
Anti-theft alarm system
Tire pressure monitoring system
Warranty
Vehicle: 4 year, 50,000 mile limited warranty
Battery (Standard): 8 year, 100,000 mile
Battery (Long Range): 8 year, 120,000 mile
Tesla Model 3 OPTIONS
Long Range Battery ($9,000)
Range: 310 miles
Supercharging rate: 170 miles of range per 30 minutes
Home charging rate: 37 miles of range per hour (240V outlet, 40A)
0-60 mph: 5.1 seconds
Top speed: 140 mph
Paint
Solid Black (Standard)
Midnight Silver Metallic ($1,000)
Deep Blue Metallic ($1,000)
Silver Metallic ($1,000)
Pearl White Multi-Coat ($1,000)
Red Multi-Coat ($1,000)
Wheels
18" Aero (Standard)
19" Sport ($1,500)
Premium Upgrades Package ($5,000)
Premium heated seating and cabin materials throughout, including open pore wood décor and two rear USBs
12-way, power adjustable front seats, steering column and side mirrors, with custom driver profiles
Premium audio system with more power, tweeters, surround speakers and subwoofer
Tinted glass roof with ultraviolet and infrared protection
Auto dimming, power folding, heated side mirrors
LED fog lamps
Center console with covered storage and docking for two smartphones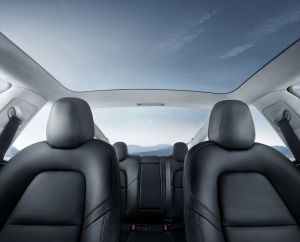 Enhanced Autopilot ($5,000)
Match speed to traffic conditions
Keep within a lane
Automatically change lanes
Transition from one freeway to another
Exit a freeway
Self-park at your destination
Additional features will roll out over time via software updates
Full Self-Driving Capability ($3,000) (requires Enhanced Autopilot)
In the future, Model 3 will be capable of conducting trips with no action required by the person in the driver's seat.
From the pricing above, a fully loaded Model 3, in any colour other than black, will set you back $59,500 (minus applicable incentives). Remember that all Model 3s are shipped with full self-driving hardware, which you don't have to purchase straight away — it can be paid for and unlocked at a later stage.
Tesla's mission to accelerate the world's transition to sustainable energy is unfolding as planned. We wish Tesla a smooth Model 3 production ramp — undoubtedly the most stressful part of manufacturing. And we look forward to seeing our roads inundated with Model 3s over the coming months, a sure sign that the electric revolution is gaining momentum.
Sources: Handover Party, Press Kit, Reservations FAQ, Tesla Info, Q2 2017 Update Letter, Q2 2017 Financial Results Q&A Conference Call.