Tesla's electric vehicle for the masses — Model 3 — is looming on the horizon. With the very first production Model 3 set for completion this Friday, it will be all hands on deck at Tesla's Fremont factory this week.
To share the good news, Tesla CEO Elon Musk took to Twitter:
Model 3 passed all regulatory requirements for production two weeks ahead of schedule. Expecting to complete SN1 on Friday

— Elon Musk (@elonmusk) July 3, 2017
Model 3 will be the complete all-electric package. It will combine good looks with awesome performance (expect 0-60 mph in under six seconds). With a range of 215 miles (345 km) per charge and a US$35,000 price tag, Tesla Model 3 has the potential to alter the public's perception of electric vehicles, once and for all.
For a select few Model 3 reservation holders, Christmas will indeed be coming in July. Elon Musk announced on Twitter that thirty Model 3s will be passed on to customers on July 28.
Handover party for first 30 customer Model 3's on the 28th! Production grows exponentially, so Aug should be 100 cars and Sept above 1500.

— Elon Musk (@elonmusk) July 3, 2017
For the rest of us, the good news is that volume production of Model 3 is expected in September, in line with what Tesla previously outlined back in February.
In May, preparations at Tesla's Fremont factory were apparently on track to produce 5,000 Model 3s per week at some point in 2017. It appears this is still on the cards.
Looks like we can reach 20,000 Model 3 cars per month in Dec

— Elon Musk (@elonmusk) July 3, 2017
Now the bad news. Due to unprecedented demand, if you order a Model 3 in the US today, don't expect delivery until mid-2018, or later.
Can't wait that long? There is always the Model S or Model X, which are both available for delivery in late August of this year, and have just received a massive performance increase.
Tesla Improves Performance of Base Model S and Model X — Both Available for Delivery Late August 2017.
We are well aware of Tesla's previous attempts to "anti-sell" Model 3. With a mounting backlog of Model 3 orders, they are at it again.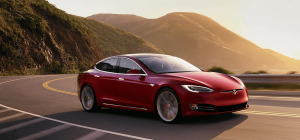 Tesla engineers have been busy tinkering away at the innards of the currently available base Model S and Model X (i.e. vehicles equipped with the 75 kWh battery pack).
Through software and hardware tweaks, they have managed to slash 1.2 seconds off the 0-60 mph time for the Model S 75 — it can now get there in just 4.3 seconds. At $69,500, Model S 75 represents astounding bang for your buck. The all-wheel drive Model S 75D now only takes 4.2 seconds, a full second quicker than before.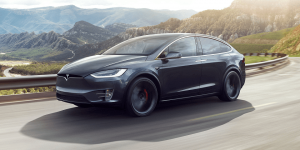 The heavier Model X 75D's 0-60 time has been slashed from 6 seconds down to just 4.9. Impressive for an SUV that weighs over 5,000 lbs (~2,300 kg). Also, Tesla Model X is also the safest SUV ever tested by the National Highway Traffic Safety Administration (NHTSA).
The performance improvement aren't just reserved for Tesla's base models. At the top end of the range, the already quick Model S and Model X 100D have had one tenth shaved off their 0-60 times — now 4.1 and 4.7 seconds respectively.
Updated Model S and Model X specifications are summarised below: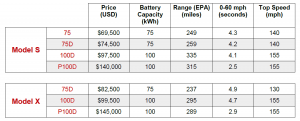 With thirty pristine, fully functional Model 3s required by month's end, there will no doubt be some sleepless nights ahead at Tesla. We wish everyone the best of luck.
Update: July 9, 2017 — Photos of First Production Tesla Model 3

Elon musk has released photos (via Twitter) of the very first production Model 3! The black Model 3 is pictured parked outside Tesla's Fremont factory.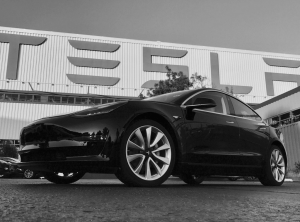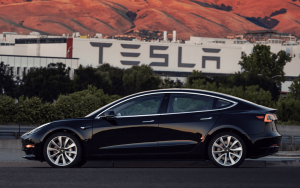 A bystander managed to capture a video during the photo shoot, in which we get a peek inside the Model 3 (via Reddit):
The interior looks similar to that of the numerous Model 3 release candidates spotted over the past few months.
So, who is the lucky owner of the very first production Model 3?
Ira Ehrenpreis had rights to 1st car as he was 1st to place a full deposit, but gave those rights to me as my 46th bday present. Tks Ira!

— Elon Musk (@elonmusk) July 9, 2017
Musk also owns the first Tesla Roadster and Model X.
Ira Ehrenpreis — a member of Tesla's Board of Directors — will now have to be content with the second Model 3 to roll off the production line.
The countdown is now on for the final reveal on July 28 when thirty Model 3s will be handed over to reservation holders. We will get a closer look at the Model 3 and should be able to confirm what changes, if any, have been made to the vehicle's final design.