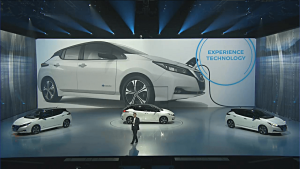 On September 6, Nissan launched its highly anticipated next-generation LEAF in Tokyo, Japan. From some of the comments made by Nissan during the event, it would appear they are beginning to realise that electric vehicles (EVs) are the future of the auto industry.
"The launch of the new Nissan LEAF comes when the entire world is shifting towards era of EV," said Hiroto Saikawa, Nissan President and CEO. "While the current Nissan LEAF was the EV pioneer, the new Nissan LEAF has the real potential to become the core of the company."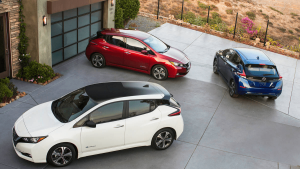 Nissan is certainly no newcomer to the all-electric scene — they released the LEAF way back in 2010. As of July 2017, a total of around 281,000 LEAFs had been sold in 49 markets around the globe . This gives the Nissan LEAF bragging rights as the world's best-selling all-electric vehicle in history. Further, the LEAF has racked up over 2.2 billion miles (3.5 billion km), without any battery incidents.
The LEAF has proven to be most popular in the US, with a total of around 112,000 vehicles sold. It is also popular in Europe (80,000 units) and Japan (81,000 units). Nissan anticipates doubling, possibly tripling, sales in Japan with the launch of the new LEAF.
The 2018 LEAF has had a significant exterior makeover. Ironically, with its sharper, bolder lines, it looks less like an EV than its predecessor. Its wider stance, coupled with a lower center of gravity, should help improve cornering and agility. Aerodynamics have also been improved along with noise reduction, providing occupants with a virtually silent environment.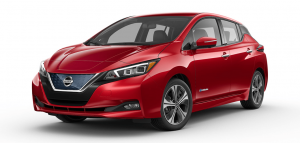 The main changes lie beneath the LEAF's skin, however. Most notably, its lithium-ion battery has received a generous capacity boost, up from 30 kWh to 40 kWh. The larger capacity battery unlocks an extra 40% more driving range. You can now expect around 150 miles (241 km) per charge, up from 107 miles (172 km) on the old model.
Further, the LEAF's single, front mounted electric motor has been endowed with some extra grunt. Drivers now have 147 hp (110 kW) on tap, up from 107 hp (80 kW) previously. The more potent motor, coupled with larger capacity battery, should be able to propel the LEAF from 0-60 mph in around 8 seconds flat, according to Motor Trend. That is a whopping two whole seconds quicker than the 2017 LEAF.
The 2018 LEAF comes with a customisable, digital instrument cluster. A 7″ TFT advanced Drive-Assist display is standard across all models. Apple CarPlay and Android Auto have been added to the infotainment system in cars equipped with the navigation system (i.e. SV and SL model).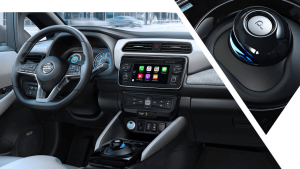 Both the SV and SL model LEAF have a CHAdeMO quick charge port and 6.6 kW onboard charger. Using a 240V charging dock, expect to gain up to 22 miles (35 km) of driving range after one hour. Thirty minutes on a 50 kW public fast charger will add up to 88 miles (142 km).
Nissan have improved the ergonomics of the charging ports at the front of the LEAF. They are now inclined at 45 degrees, which should allow drivers of any height to plug in without having to bend down.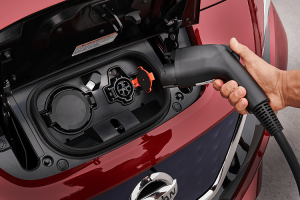 Even with the myriad of improvements to the 2018 LEAF, Nissan have still been able to drop the price. With a manufacturer's suggested retail price (MSRP) of $29,990 in the US, the base LEAF S is $690 cheaper than before. The mid-range SV model now comes in $1,710 cheaper at $32,490. The top of the range SL will set you back $36,200 — $590 less than before.
In Japan, the next-generation LEAF will be available from October. For US customers, the new LEAF goes on sale in all 50 states in "early 2018." You will be able to get your first look at the new LEAF at National Drive Electric Week events around the US (September 9-17).
In 2018, Nissan plan on releasing a high power version of the next-generation LEAF. It will have an even more powerful motor coupled with a higher capacity battery, providing even better acceleration and extended driving range.
E-Pedal Should Make Driving Easier

Nissan have introduced the e-Pedal on the new LEAF. E-Pedal is designed to allow drivers to accelerate and brake with just one pedal. With e-Pedal, you accelerate as normal, but as you ease off the pedal, regenerative and friction braking slows the car down. Take your foot off the pedal completely and the car comes to a dead stop.
The e-Pedal will be great for driving in congested city traffic. In fact, Nissan estimates that the e-Pedal will be suitable for use in over 90% of driving situations. The normal brake pedal can still be used for more aggressive braking, if required.
Semi-Autonomous Driving With ProPILOT Assist
ProPILOT Assist is Nissan's foray into autonomous drive technology. Notably, Nissan is the first Japanese automaker to introduce a system which can (under certain conditions) fully automate steering, throttle and brakes.
ProPILOT Assist is based on Intel's Mobileye, whilst it uses Nissan's own image processing technology. It is already available on Nissan's Serena and X-Trail in Japan, and will now be incorporated in the new LEAF. ProPILOT Assist has undergone extensive testing on US roads, with more than 50,000 miles (~80,500 km) racked up.
Once engaged on the highway, ProPILOT Assist with Intelligent Cruise Control (ICC) automatically follows a car in front at a preset distance and speed. The system also keeps the car in the middle of the lane by reading lane markers and controlling steering. It can even bring the vehicle to a complete stop, based on traffic conditions, and keep it there. For safety, the driver must keep their hands on the steering wheel at all times when ProPILOT Assist is engaged. A warning system will alert the driver if this is not the case.
Currently, ProPILOT Assist can only be used in single-lane traffic on highways. Nissan predicts that ProPILOT Assist will allow semi-autonomous driving on multi-lane highways, and be able to automatically change lanes, in 2018. Further, it should be capable of driving on urban roads and navigating intersections in 2020.
ProPILOT Assist is available as part of the optional Technology Package on the LEAF SV ($2,200 extra) and SL ($650 extra). The Technology Package incorporates quite a few other safety features such as automatic emergency braking (with pedestrian detection) and intelligent lane intervention.
Vehicle-to-Home (V2H) & Vehicle-to-Grid (V2G)
Vehicle-to-home technology allows LEAF owners to store surplus solar energy (or cheap electricity from the grid) in their car's battery pack, and then use it to help power their home in the evening, when electricity prices can be higher.
Or, the stored energy can be used when the electricity supply goes down, such as during a storm. Imagine having 40 kWh at your disposal (enough to power a home for days).
In countries with vehicle-to-grid (V2G) systems in place, EV owners can receive incentives from power companies by supplying energy back to the grid during peak demand, which helps improve grid stability. V2G is currently not offered in the US, unfortunately.
The Nissan LEAF's Competition
In the US, the next-generation Nissan LEAF faces some stiff competition from General Motors and Tesla. One thing on the LEAF's side is price — it is $7,505 cheaper than GM's base Chevy Bolt EV ($37,495), and $5,010 cheaper than the standard Tesla Model 3 ($35,000). The Hyundai Ioniq Electric ($29,500) is actually $490 cheaper than the Nissan LEAF, but it is currently only available to California residents.
Given the LEAF's budget price, it's no surprise that its battery is smaller in capacity, and hence its driving range less, than the Bolt and Model 3. Expect an extra 88 miles (142 km) of driving range per charge from the Bolt, while the Model 3 delivers an extra 70 miles (113 km) compared to the LEAF.
The LEAF's smaller battery, coupled with its less powerful electric motor, means it is a lot slower from 0-60 mph than the Chevy and Tesla. The Bolt is about 1.7 seconds quicker from 0-60 mph, while the Model 3 is around 2.4 seconds quicker than the LEAF.
There is one major caveat with the Tesla Model 3, however. The queue to get your hands on one is long, and it's apparently getting longer every day. As of July 28, there were 455,000 reservations for the Model 3. Tesla's website gives an estimated delivery time of 12-18 months if you were to place an order in the US today.
With the US public crying out for a good looking, budget priced EV with decent performance, the new Nissan LEAF should easily outsell its predecessor. The new LEAF has enough driving range to suit most people, and it is even more competitively priced than before. It looks much better too, and it has a lot more get-up-and-go. If you live in the US and are eligible for the $7,500 federal tax credit, you could essentially pick up a brand new Nissan LEAF for $22,490 (minus any further applicable state incentives).
Reiterating Nissan's commitment to transitioning to electric vehicles, Daniele Schillaci, Executive Vice President of Global Marketing and Sales (EV Division), said, "The new LEAF is the future of Nissan."
Sources: Live Stream, Nissan USA, Nissan News.