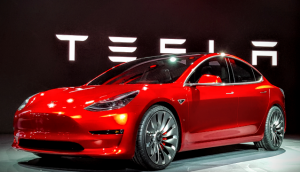 On Wednesday February 22, Tesla released its fourth quarter & full year 2016 update and also held a Q&A webcast. It was revealed that the highly anticipated Model 3 is on track for initial limited production in July, with all related sourcing currently on target. Volume production of the Model 3 is scheduled to begin by September, with production anticipated to steadily ramp up to exceed 5,000 vehicles per week at some point in the fourth quarter of 2017 and up to 10,000 vehicles per week at some point in 2018.
It was also disclosed that production of Model 3 prototypes began in early February as part of ongoing testing of the vehicle's design and manufacturing processes. Initial crash test results for the Model 3 have been positive.
During the Q&A webcast, Tesla CEO Elon Musk highlighted that the Model 3 has been designed with ease of manufacturing in mind. For example, Model 3 will use only 1.5 km of electrical wiring, compared to 3 km in the Model S. Also, there will be no self-presenting door handles on the Model 3. Further, Model 3 will have a single screen, whereas Model S & X have two screens, each with two computers powering them. Musk believes simplifications such as these should make the production ramp less of a headache than in the past and allow for easier scaling.
As the Model 3 will be produced in high volume, Tesla has been able to use the very best parts suppliers this time around. In the past, these suppliers have been too expensive or indeed unwilling to supply parts for the previous lower volume Model S and Model X.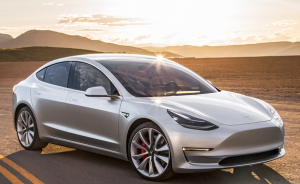 Installation of Model 3 manufacturing equipment is apparently underway at Tesla's Fremont factory. "Our goal is to be the best manufacturer on Earth," Musk said. "We are making good progress in that direction."
Musk said that we need to think of the factory itself as an enormous product at least two orders of magnitude (100 times) more complex than the actual product it manufactures. As such, Tesla's engineering department has been intently focused on designing the factory. It will apparently be far more automated compared to previous incarnations used for Model S and Model X production.
Musk stated that the first completed Model 3s will go to Tesla employees, allowing for internal feedback regarding any issues or bugs that need to be ironed out before customer deliveries begin. Further, Musk stated that customer configuration for the Model 3 is probably 3 or 4 months away.
In terms of revealing the final version of the Model 3, this will probably occur at least a few months from now, possibly as late as July. Musk said that the final version will be more polished and refined and in some ways a lot better than the model unveiled in March 2016.
According to Tesla, all of its vehicles in production have the hardware necessary for full self-driving. Despite the complexities involved in implementing Autopilot hardware, Tesla was able to produce 77% more vehicles in Q4 2016 compared to Q4 2015. Tesla expects to deliver a total of 47,000-50,000 Model S and Model X vehicles in the first half of 2017 — a growth of between 61-71% compared to the same period in 2016.
In January, Gigafactory 1 began production of the battery cells that will power the Model 3. Highlighting its importance, Gigafactory 1 will also supply the powertrain, power electronics, chargers and other items for the Model 3.
Musk believes that Tesla should be able to pump out a total of around 500,000 cars annually (Model S, X and 3 combined) by 2018 and up to 1 million cars a year by 2020. Musk stated that Gigafactory 1 should eventually be capable of producing in excess of 100 GWh of energy storage per year. Assuming the average battery pack size of a Tesla vehicle is ~70 kWh, you would need 70 GWh of battery storage available to produce the target of 1 million cars per year. That leaves around 30 GWh left over for other energy storage equipment (e.g. Tesla Powerwall 2).
With the anticipated major increase in Tesla's customer base following the Model 3 launch, plans are in place to double the size of the Supercharger network in North America. Also, Tesla's mobile repair service is expanding. More than 80% of Tesla repairs are so minor that they can be completed remotely, allowing vehicles to be repaired at a customer's home or office.
With an estimated base price of around $35,000 USD (minus any applicable government incentives), Model 3 is the first Tesla within reach of the average consumer. The Tesla Model 3 will seat five adults in comfort, have a range of around 345 km and will accelerate from 0-60 mph in under 6 seconds. It has the potential to change the way the public views electric vehicles.
Stay tuned.
Source/s: Tesla Press Release, Q&A Webcast.