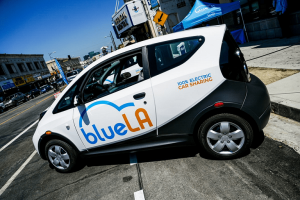 On 9 June, Los Angeles Mayor Eric Garcetti helped launch a unique electric vehicle (EV) sharing program — BlueLA — which will provide disadvantaged communities with self-service access to this cleaner, greener mode of transport. Once in full swing, BlueLA will help Los Angeles meet its clean air goals by reducing greenhouse gas emissions in the transportation sector.
The BlueLA program is partly funded by a $1.7 million grant through California Climate Investments (CCI), a statewide program utilising  billions of cap-and-trade dollars. Further, Blue Solutions — a division of the Bolloré Group — have invested more than $10 million to bring the EV sharing program to the City of Angels.
"The BlueLA EV car share program puts California's cap-and-trade dollars to work to not only help meet the Paris Climate Agreement goals to reduce greenhouse gas emissions and advance the EV goals in my Sustainable City pLAn, it brings new transportation options to neighborhoods that need them," said Mayor Garcetti.
California Senate Leader Kevin de León stated "I was proud to author SB 1275, which secured the funding necessary to make programs like this a reality. Through the Charge Ahead California Initiative we have expanded access to electric vehicles for all Californians, because if we are going to continue reducing harmful pollutants, electric vehicles can't just be driven by the wealthy."
EV Sharing Already Exists in France, London & Indianapolis
The Bolloré Group, owned by French billionaire Vincent Bolloré, first began its EV sharing service in France in 2011. Dubbed AutoLib, it uses Bolloré Bluecars; small three-door EVs which utilise 30 kWh lithium metal polymer batteries. As of mid-July 2016, almost 4,000 Bluecars had been registered for the service, and there were more than 126,900 registered subscribers. There are over 1,000 curbside charging stations in Paris alone.
BlueIndy is a similar EV sharing program, again tied to the Bolloré Group, which opened to the public in Indianapolis in September 2015. The BlueIndy service is a one-way car sharing model, so you can return your car to any station. Bolloré Bluecars are being used which have been adapted for the US market. They provide up to 150 miles (240 km) of range per charge and can reach a top speed of 65 mph (105 kph). BlueIndy plans to eventually have a shared fleet of 500 Bluecars. Depending on your membership level, it can cost as little as $4 for twenty minutes to hire a Bluecar (Figure 1).

BlueLA Opens First EV Sharing Demonstration Station in LA
BlueLA's first demonstration station is now operational near the corner of 7th and Bonnie Brae streets in Pico-Union. In a bid to raise EV awareness, the Pico-Union station will be used for community outreach, including drive and ride events. This pilot program will serve certain areas of Westlake, Pico-Union, Koreatown, Echo Park, and Downtown LA.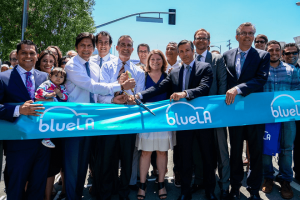 The BlueLA EV sharing program aims to bring a total of 100 EVs and 200 chargers to self-service stations across LA by the end of 2017. The EV sharing service will be available to anyone over the age of 18 with a valid driver's license. Pricing is yet to be released.
EV Sharing — Looking Ahead
EV sharing services, like those offered by Bolloré Group, may one day be quite common. In the future, when EVs are capable of full autonomy (i.e. self-driving), it would be even easier to get from A to B. You will simply hail an EV, which will travel from where it dropped off its last customer — no need to go and pick up the car.
During a recent TED talk, Tesla CEO Elon Musk said "once you have shared autonomy where it's much cheaper to go by car and you can go point to point, the affordability of going in a car will be better than that of a bus. Like, it will cost less than a bus ticket."
If this future does indeed pan out, shared autonomy could prove to be a major disruptor in the public transport and taxi industries. There is a downside, however. If everyone who normally catches public transport begins using car sharing instead, there will be many more cars on the road. Traffic will actually get worse.
As we reported last month, the answer may be boring. Elon Musk's side project — The Boring Company — proposes that in order to alleviate traffic congestion we build a 3D network of tunnels. Within these tunnels cars would be transported via electric skates at speeds of up to 125 mph (~200 kph). Imagine a trip from Westwood to LAX taking only five or six minutes. Most definitely not boring. Contrary to popular belief, perhaps the only way is down.
Source: Air Resources Board, LA Mayor Eric Garcetti.