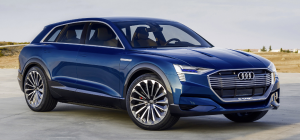 The luxury all-electric SUV market could be set for a shake up. At the moment, the only option available to consumers is the Tesla Model X. Audi's offering, the e-tron quattro concept, is now looming on the horizon. With production expected to begin in 2018, the e-tron quattro could pose some serious competition for the Model X.
Audi describes its first electric vehicle (EV) as "Sporty, efficient and practical for everyday driving: the Audi e-tron quattro concept is a statement about the future of electric mobility."
There is one thing that worries us, however — the word "concept" in the product description. Will we actually see it reach production? We hope so.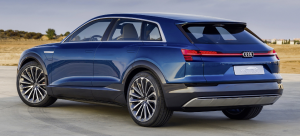 E-Tron Quattro Concept Reservations Now Open in Norway
In a bid to test the public's level of interest, and to prove that the e-tron is not simply vapourware, Audi are now taking advance reservations, but only in Norway at this stage. If any country is a gauge for EV appetite it is Norway, the undisputed plug-in capital of the world.
Norwegians can reserve the e-tron quattro concept for kr 20,000 (~US$2,330), which is refundable should you change your mind. This deposit gives you priority access when Audi opens customer ordering. It is unsure when, though.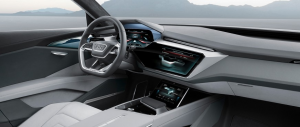 Harald Edvardsen-Eibak, Audi Norway's director, said that "Interest in the Audi e-tron quattro has been enormous since the first edition was shown in 2015. Norway is a pioneer market for electrification and we are proud to be first in the Audi Group with a solution like this."
How Much Will the E-Tron Quattro Concept Cost?
So far, Audi have not revealed a price for their e-tron quattro, stating that "The price of the Audi e-tron will not be ready until it opens for final order, but we are confident that it will be competitive in its segment."
To compete in the luxury, all-electric SUV market, pricing would need to be aligned with the Tesla Model X. The e-tron quattro's 95 kWh battery would place it between the Model X 90D and Model X 100D, which start at US$93,500 and US$99,500, respectively. The e-tron would likely do well if it was priced around this range.
Specifications: E-Tron Quattro Concept vs Tesla Model X
On paper, initial specs for the Audi e-tron quattro are impressive:
All-wheel drive
95 kWh battery: driving range ~500 km (~311 mi) (likely NEDC)
0 to 100 kph: ~4.6 sec
Top speed: 210 kph (130 mph)
These specs compare well with the Tesla Model X 100D:
All-wheel drive

100 kWh battery: driving range ~565 km (~351 mi) (NEDC)

0 to 100 kph: ~5.0 sec
Top speed:  250 kph (155 mph)
One tantalising advantage of the e-tron quattro is the possibility of "Audi Wireless Charging," which would allow drivers to charge their EV without even plugging in. It involves induction charging via a plate, installed in the owner's garage, which the vehicle parks over. This type of wireless charging would be a first for EV manufacturers. Whether the feature makes it to production remains to be seen.
According to Audi, the e-tron quattro "contains all of the technologies that Audi has developed for piloted driving." They add that "All of these technologies are near production readiness."
We certainly hope that Audi can bring the e-tron quattro concept to market, and that it lands with a reasonable price tag. Any new player in the EV market is good news for consumers, as it drives prices down and fosters ingenuity.
Source: Audi, Audi (Norway).